Next stop on my crazy train is Norman, Oklahoma.
Yes, yes, yes. Its the home of the Sooners. If you are not a Sooners fan, I am terribly sorry for you. I will keep you in my thoughts. If you are a Sooner, then BOOMER SOONER!!!
It is a crazy cult like following, those Oklahoma Sooners.
Truly, I don't know any different. I was a Sooner born, and Sooner bred and when I die, I'll be Sooner dead. RAH Oklahoma, RAH Oklahoma, RAH Oklahoma, OKU!!
Ok, I got all caught up in the insanity.
Basically, I never considered going to any other college. And it was not because I was forced to go there, or my family pressured me. After all, it wasn't like I was going to play on the football team, right?
So, I came.
And I conquered.
Or so I thought.
I loved being in Norman. Quite frankly, I felt like I was at home. It wasn't a huge place and the biggest thing there was the college.
And everyone loves college right? Not the classes, so much, as I slept through my share of those...
But the whole experience.
The late night, do whatever you wants, the sorority functions, pizza 24 hours a day, controlling what classes you took, lots of boys to date.
What's not to love?
I must say the campus is gorgeous too. This is one of the ovals:
They were always doing cool floral designs in both of the ovals.
Also gorgeous, the Bizzell Memorial Library:
And here is the world's tiniest picture of the dorm rooms there. (It was all I could find)
And if you have been to Norman, then you know about the stadium. The sight is unbelievable.
And now on Game Day:
It is like a sea of red.....
There are also the statues across from the stadium of our Heisman Winners: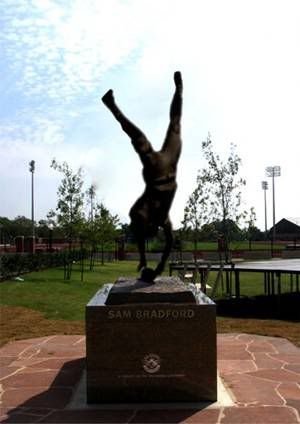 My favorite is the Sam Bradford statue with his famous touchdown pose.
I also have to throw out some props to my old Sorority house
1105 S. College. It is still the only address I can remember off the top of my head. And I only lived there for three years.
It was truly gorgeous.
I had some favorite places to eat there also. Pizza Shuttle is the first that comes to mind. Not because it was my favorite, but because it was open til 4 in the morning and I ate that pizza more than any other food my freshman year.
I also loved Classic 50's. It was the original Sonic. It has been in Norman before Sonic even came around. And it had fried pickles! Here is their menu board:
There were a ton of cool places to eat in Norman. But most of them are closed down now. A few to mention: Pinnochio's (best breadsticks award) and Cocina de Mino (best queso award) are a few.
Also, Harold's closed down. It was the clothing store I worked at all during college. It was a fun place to make a buck.
But you know whats still there? Brothers.
A fun bar we went to on the weekends in college. In fact, Keith, the owner, married one of the gals I worked with at Harolds. Sometimes I see them on game days.
Most importantly about Norman, it was where my first son was born. His first house was ironically on Texas Street. Maybe that was a sign......
I still love to go back to Norman. And when I do, I always go downtown and check out Campus Corner. I always check out the stadium. And then I check out highway 35 to see what has been built.
My boys love Norman.
They all want to go to OU.
I can't say I blame them............